There are many horror stories in the media about rogue movers. The Internet has led to a growth in rogue movers who put up slick web sites to fool people into believing they are a reputable moving company. 
These rogue movers have no trucks, equipment or licensed agents to handle your move.
How To Spot A Rogue Mover
1. Many rogue movers don't list a physical company address on their website.
2. Rogue movers will give a low-ball price in order to get your move and they often demand payment up front. Reputable moving companies collect payment on delivery.
Protect Your Family And Your Belongings
There are steps you can take as a consumer to ensure the mover you choose is not a rogue mover. Educate yourself and check with the Better Business Bureau and the Canadian Association of Movers to ensure your mover is in good standing.
Please take a few minutes to watch video above called "How to Choose a Mover" for more information on what you can do to protect your family and your belongings.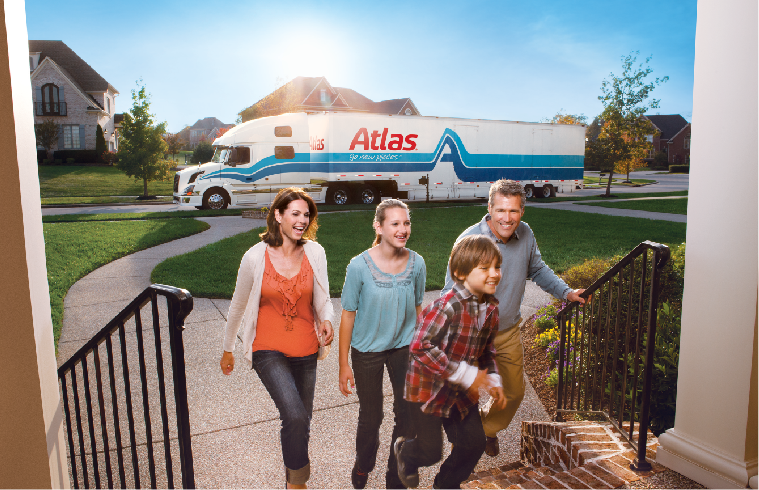 If you're like most people, the weeks leading up to your move consist of long days and late nights as you try and get everything and everyone ready for the move. By the time moving day comes, you're so exhausted and stressed it takes a pot of coffee just to get you out of bed!
The good news is, with a bit of planning and effort, you can prepare for your move well in advance and alleviate much of the stress that can happen before, during and after moving day.
We are here to help! Below you will find our Moving Tips Library offering a variety of professional and practical tips to help you prepare and stay organized throughout the entire moving process.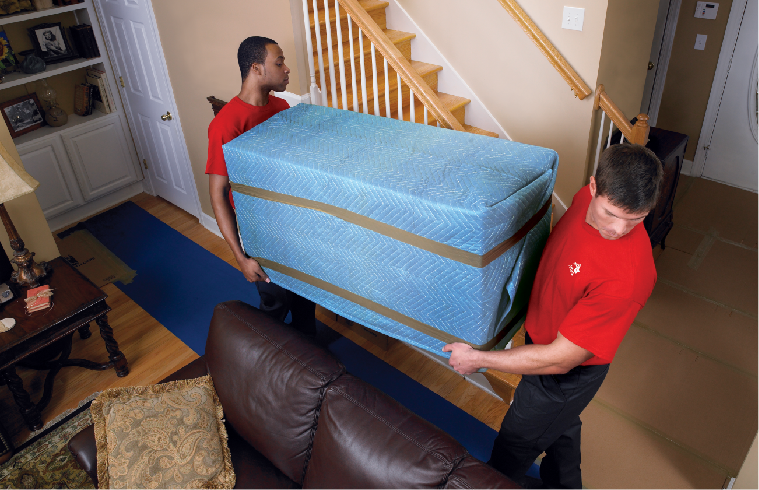 Moving Tips Library
Use our moving tips to ensure you have the best moving experience possible.
Stay away from end of months (particularly June, July and August) if possible. Movers are stretched beyond their limits at that time. If you must move at a month end, make your moving arrangements 6-8 weeks prior to move date.
Never plan to move in on your "closing" day. Sometimes there are delays in the closing or the former owners may be later moving out.
Go through your home from top to bottom before the moving consultant comes to do their survey. Decide what is being moved and what will be sold or discarded. Make a list of items kept at another location including items loaned.
If you are doing some/all of your own packing, arrange to get started well in advance of the move. Packing is much harder than most people expect.
If you are doing some/all of your own packing, arrange to purchase cartons and other supplies from your Atlas representative. They are available at a nominal cost and are much stronger than discarded cartons from the grocery store.
Dispose of all flammables such as cleaning fluids and aerosol cans. Your Atlas representative can provide you with a list of "non-admissible" items.
Use up food from your freezer and pantry. Clean your freezer and refrigerator 24-48 hours prior to the move to give these appliances time to properly dry. Put a charcoal filter or baking soda fridge pack inside to keep the appliance fresh. Leave lids and doors open until they are dry.
Make sure you have/or obtain written appraisal for antiques, high value artwork etc. to verify their value prior to the move. Provide a copy to your Atlas moving consultant.
Appliances like washers and items like grandfather clocks need special servicing before and after the move. Make arrangements with a licensed service person or ask your Atlas representative to make the arrangements for you.
Movers do not remove items affixed to ceilings and walls. Remove drapery tracks, curtain rods, blinds or other such items, before the packers/movers arrive.
You can leave lightweight items in dresser drawers but do not put books, linens or other heavy items in them. Be sure to remove valuables like jewellery and fragile items.
PERSONAL MOVING GUIDE
4 WEEKS BEFORE MOVING
Tour your house including the attic, garage, storage shed and decide which items should be discarded or donated to charity.
Consider a garage sale.
Contact your Atlas Van Lines Agent and request an accurate estimate of your moving charges.
Arrange for the transfer of records (school, medical, insurance, etc.).
Book a reliable service firm to prepare your appliances – washer, dryer, etc. – for moving.
Arrange for the connection of utilities in new home.
3 WEEKS BEFORE MOVING
Start packing if you have planned to do some of it yourself. See Atlas' packing tips on our website.
Arrange for transportation of pets, including kennels. Obtain animal health records from your veterinarian.
Plan to use up frozen food and staples. Buy only what will be used before moving. Perishables cannot be transported.
Dispose of flammables that cannot be transported- paint, matches, cleaning fluids, etc.
Notify post office, mail order accounts, etc. of your pending change of address.
2 WEEKS BEFORE MOVING
Draw up a floor plan of your new home and indicate furniture placement. It makes moving in twice as easy.
Get your car fully checked and serviced for travelling.
Arrange to discontinue utilities, cable, internet and delivery services.
Return borrowed items and collect anything lent or out for repairs.
Arrange for young children and/or pets to be cared for on packing, loading and delivery days.
1 WEEK BEFORE MOVING
Prepare for trip. Finish packing all suitcases and basic essentials. Plan to carry valuable documents, currency and jewellery with you.
Drain water from garden hoses and oil/fuel from lawn mower and other machinery.
Defrost and wipe dry fridge and freezer. Don't overlook the defrost water pan.
Take down all items that are attached to the walls. Dismantle large power tools such as lathes, grinders, etc.
Confirm that you have important papers, keys, medications, plane tickets and appropriate clothing with you for the trip.
PACKING DAY
Have a clear workspace available for packers. Point out, (a) fragile valuable items; (b) items you will be taking with you; (c) anything to be left for new owners.
MOVING DAY (OUT)
Plan to stay home until the moving van has left. Tour house with van operator during inventory, sign Bill of Lading, confirm new address and delivery date. Be sure to check destination contact phone numbers. Do final check for overlooked items. Make certain windows and doors are locked, utilities are discontinued or turned off, keys are transferred and lights are out.
MOVING DAY (IN)
Arrive at your new home a day ahead of the moving van to verify utilities are connected and floor plan is correct. Check off unloaded items on the inventory list. Make arrangements for installation of appliances. Confirm unpacking requirements.
Atlas Agent:
Travel Agent:
Real Estate Agent:
Appliance Service Firm:
Babysitter: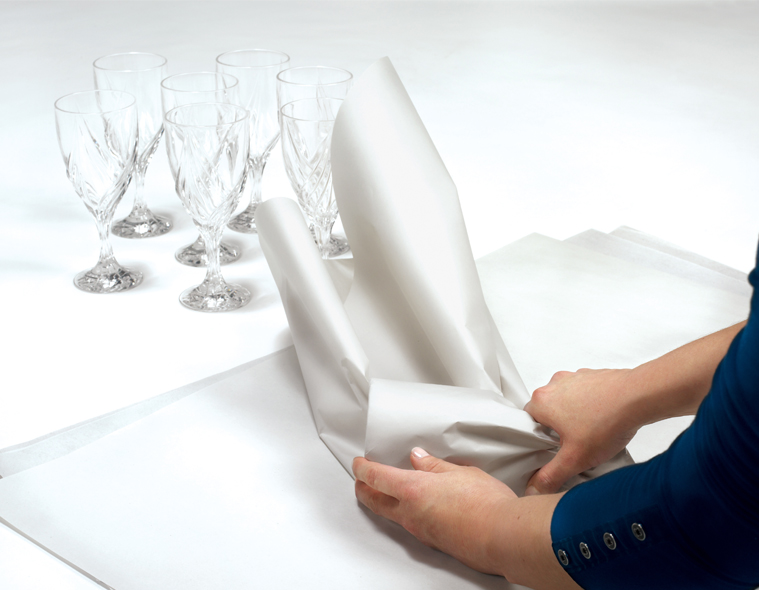 Professional Packing Makes A Difference
Proper packing is critical to a successful move. Your possessions represent both an emotional and a monetary investment which deserve the best care available.
Consider having Atlas professionals pack for you to ensure your possessions arrive at your new home safely. Even if you are on a tight budget, we would recommend that you use the services of Atlas' professional packers for your most delicate china and breakables.
If you decide to do some or all of your own packing on your own, your Atlas Professional Moving Consultant can provide you with proper packing cartons, packing paper and tape at a nominal cost. Atlas movers also offer gently used moving cartons at a reduced cost.
We can also provide custom built wooden crates for items such as antiques, marble tabletops, large oil paintings and other priceless possessions that are part of your move.
Packing Tips
Pack as much as you can in one room before going to the next room

Start by packing the out of season items

Pack the seldom used items next

Leave the "must have" items to last; soap, towels, toiletries, coffee, paper cups and plates, paper towels, tissues, medications, etc.

Do not pack valuables such as jewelry, precious stones, coin & stamp collections or money, carry them with you.

Put curtain rods, dressers, shelving, bed or table hardware such as bolts and screws in plastic bags and tape each bag to the article or label each bag and place in a carton labelled "set up box"

Do not exceed 50 pounds in weight per box and make sure the lids close flat

Do not pack dangerous or flammable items such as lighter fluid, paint, oily rags, matches, charcoal, pool chemicals, bleach, oven cleaner or ammunition as they can explode and cause damage to your shipment; Movers are not licensed to carry dangerous goods on the moving van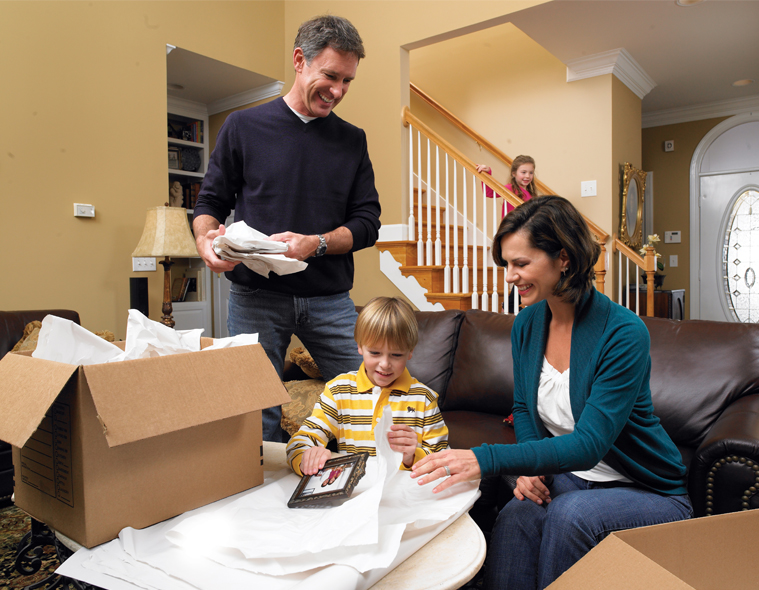 Moving is a hectic time in any family's life. One of the secrets to helping keep things on track is to stay organized with a moving check list. As your moving date gets closer, print out this handy, last minute checklist to make sure you remember everything that needs to be done.
DOCUMENTS TO COLLECT AND UPDATE
Moving documents
Home and auto insurance policies
Mailing address
Bank accounts
School records
Medical records
Passport and Government ID cards
DISCONTINUE AND TRANSFER SERVICES
Internet, cable and phone
Water
Gas/Electricity
PREPARE FOR YOUR TRIP
Pack sufficient clothing to wear before your shipment arrives
Refill medication and prescriptions
Plane tickets/directions
Credit cards/money
Duplicate keys
Toys/games for children
Blankets/pillows
VALUABLES
Never transport jewelry, money or other valuables on the moving van.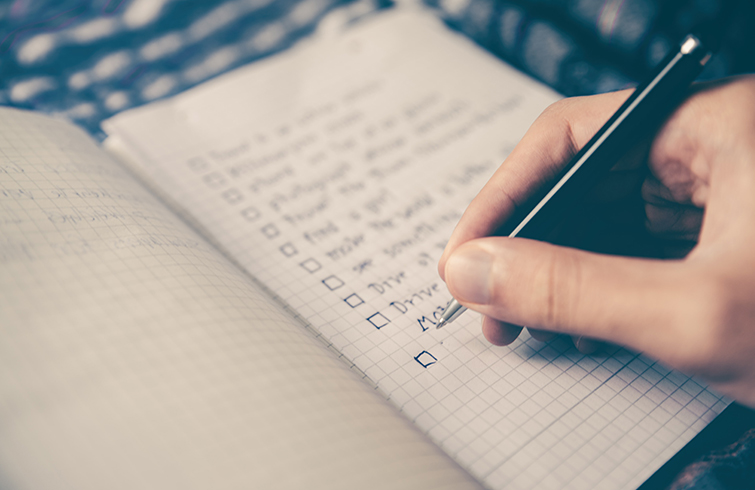 DON'T FORGET TO PICK UP:
Clothing at cleaners
Tools or items loaned to family, friends and neighbours
Items out for repair
DON'T FORGET TO MOVE:
Outdoor toys and accessories
Outdoor planters, pots and garden hoses
Dismantle/remove items attached to the walls
DON'T FORGET TO LEAVE:
Keys to house – collect from neighbours, family, house cleaner
Mail box key(s)
Garage door code and portable opener
File with warranties, instruction books and receipts for new owners
DON'T FORGET TO TRANSFER:
Bank records
House/car insurance
Medical, optometrist and dental records
School records
Discontinue and transfer utilities, cable, internet, telephone and delivery services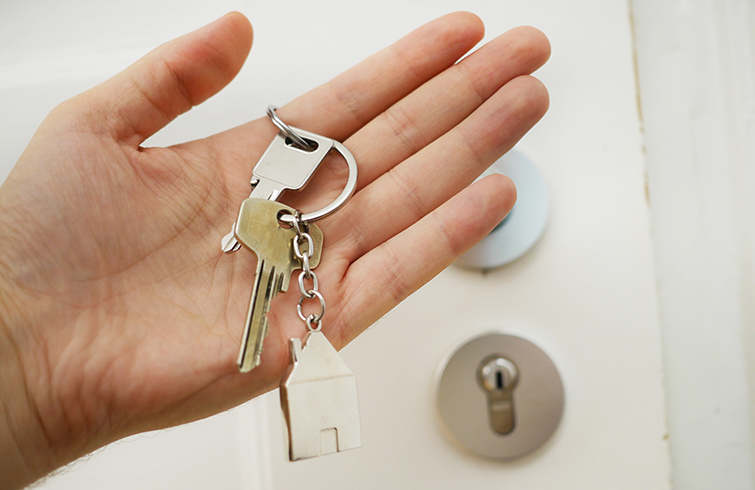 The time may come when it will be necessary for you to move an elderly family member from their own home to another type of accommodation.
Depending on your relative's state of health and finances, the options generally fall into three categories:
FOR THE ACTIVE SENIOR – RETIREMENT COMMUNITIES
Retirement communities include condos, land-lease properties or homeownership of detached/semi detached homes, townhouses or apartments. There are usually recreational facilities in place in a planned community type setting.
FOR THE LESS ACTIVE SENIOR – RETIREMENT HOMES
Retirement homes are small apartments or bed-sitting type accommodations. Meals are available in a communal dining room although some residents can prepare light meals in their own unit if it is equipped with the proper appliances. Recreational activities are also available within the complex. Nursing staff is usually available on site with physicians on an on-call basis.
FOR SENIORS REQUIRING CARE – NURSING HOMES
Nursing homes are private or shared room accommodations with 24 hour nursing staff available. Recreational activities that contribute to a healthy and enriching lifestyle are available on site such as crafts, physiotherapy, etc.
Finding the right accommodation can be a time consuming and sometimes difficult task. Nursing homes in particular often have waiting lists. If the person in question is not involved in the choice of residence, it is very important to be sensitive to the impact this move will have on your relative. Take extra time to listen to their concerns. Depending on how much space they will have in the new residence, help them to choose an appropriate number of special pieces of furniture and keepsakes to accompany them. Ask for their opinion before discarding belongings and honour their wishes as to how some items are to be distributed among family members or to worthy charities.
If your relative is moving into a non-assisted living type arrangement, offer assistance in making the moving arrangements and help them with sorting and any self-packing. Offer to let them stay at your home before and during the move to help alleviate the stress and emotions that moving will bring. Be there for delivery and assist in setting up and putting away their belongings. Help them get acquainted with their new community; take them for a drive around their new area, have lunch at a local restaurant, take them shopping. Moving will be a big life change, even for an active senior.
Some useful internet resources for seniors in Canada include:
http://www.seniors.gc.ca/eng/index.shtml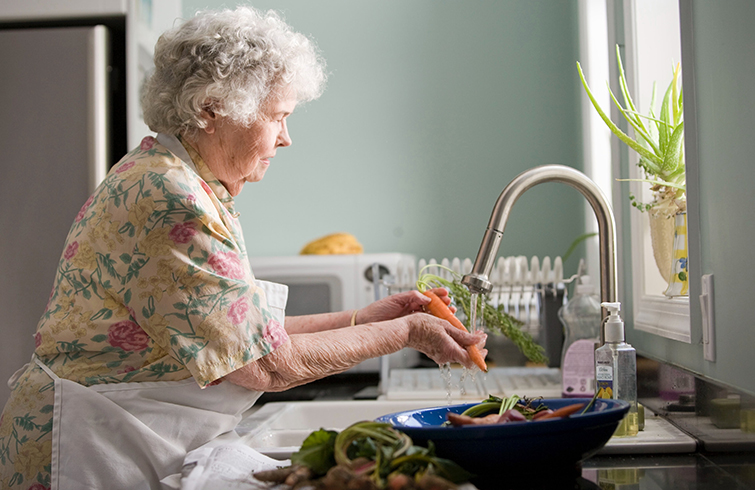 Moving children can be challenging. Leaving friends and familiar places are as hard on children as it is on adults. To make it easier on your children consider a move in 3 stages:
BEFORE
Tell children about the move right away, the more time they have to prepare the easier it will be
Give children a chance to express their feelings, they may feel anger, sadness or worry
Be honest about your uncertainty but be optimistic about the move
Help older children prepare list of phone numbers, addresses of close friends and relatives
If your child is old enough, put them in charge of researching the new location
Explore the new neighbourhood/town with your children
If this is not possible, take pictures of your home, school and neighbourhood to show them
DURING
Stay as calm as possible as this will impact children, especially babies
Involve children in packing smaller, non-delicate items
Take special blankets, stuffed animals or favourite books with you in the car or plane
Stick to routines – have meals at the same time, keep normal nap and bedtimes
Help your children say good bye as a family to friends, relatives and neighbours
AFTER
Let children have input in planning the new house, like the placement of their bedroom furniture and the paint colour of their rooms
Don't spend too much time unpacking –take time to explore and enjoy your new home with your family
Once you have met some people/children in the neighbourhood invite them over for a playdate
Get involved with church groups, YMCA, activity clubs, etc. to enable socializing
Try to be there when your children get home from their first day at the new school
Spend time with your children and regularly ask how things are going – they may have a hard time opening up
It takes time to adjust at home – younger children usually adapt faster where as an older child/teen can take up to 4-5 months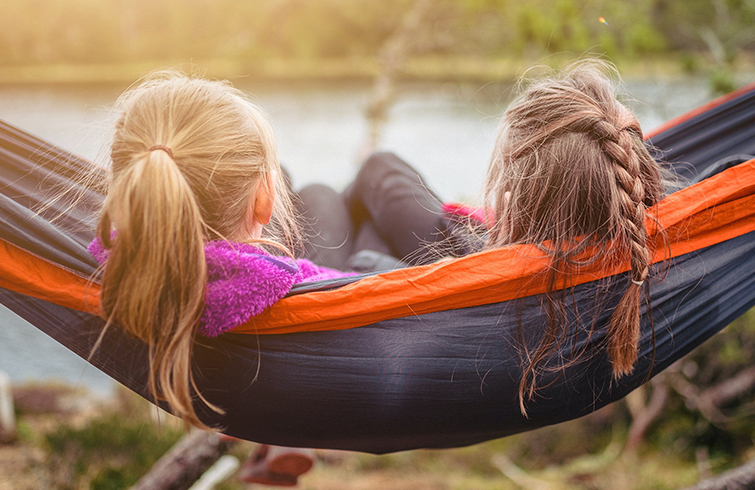 CHOOSE A MOVING METHOD
Hire a professional pet moving service or make your own arrangements with the airline. Some rail companies will accept pets but only if the owner is travelling on the same train. Take them with you in your car if you are driving to your new home.
GENERAL TIPS
If your pet suffers from motion sickness obtain medication from your vet. Make sure you have a proper travel container even if you are transporting by car. The cage should have adequate cross ventilation, a leak proof bottom, secure closing latch and be big enough for your pet to stand up and turn around. Obtain cage in advance so your pet can get used to it at home. Put their favourite blanket and toy inside.
BY CAR – DOGS & CATS
If your pet is not used to being in a car, take it on short rides to help it accustom to the motion. Do not feed or give water to your pet during the 2 hours prior to departure. Feed only once daily while you are on the road. Take a supply of water from home as using different water can cause stomach upset.
FISH
If shipping by air fish should be packed in plastic containers equipped with battery operated aerators and placed in strong boxes. Do not feed your fish for 2 days before shipping. If you are transporting fish in plastic bags in the car do not put them in direct sunlight or cold drafts. Keep the bag in a dark spot if possible as fish use less oxygen in the dark.
TURTLES
The easiest pet to transport. Pack in well cushioned Styrofoam boxes. Put air holes in the Styrofoam box and line it with soft grasses or leaves. The Styrofoam box should be big enough so the turtle can extend its legs or head. Place a damp cloth inside the container. On a long trip spray the turtles with water using a spray bottle.
HAMSTERS, GERBILES, GUINEA PIGS & MICE
Small animals are sensitive to hot and cold temperatures. Use your own comfort zone as a guide – If you are too hot or cold, your small pets will be too. Remove the water and food dishes to avoid messy spills while the car is moving. Stop to feed and water small pets along the way on long trips. Bring a supply of water from home to avoid stomach upsets.
AFTER THE MOVE
Like people, pets need time to become accustomed to new surroundings. Keep cats restricted to 1-2 rooms until they get used to the new sounds/smell. Keep cats indoors for 2-3 weeks as cats are most likely to go back to their old haunts. Keep your dog on a leash when you take them out for 1st time and take it slow – 1 block at a time. For birds, put the bird cage in same light conditions as your old home and avoid drafts.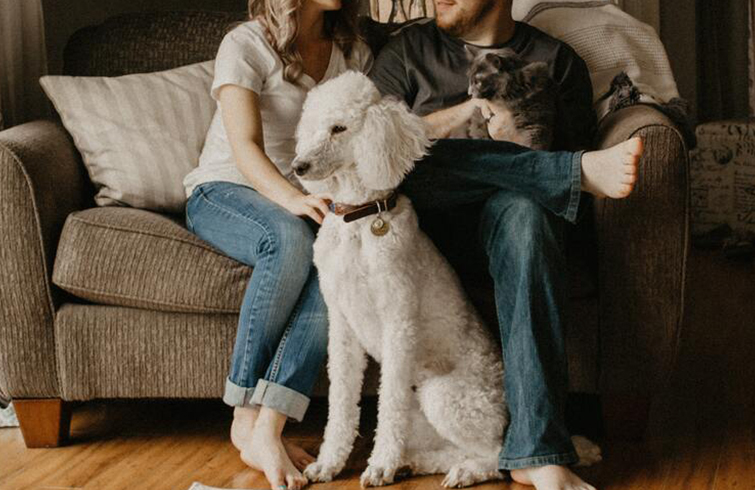 Atlas can move all your electronic equipment including PCs and components, TVs, DVRs, DVD and Blu-Ray players, audio system and stereo components. However, we recommend using a qualified third-party service to properly prepare LCD, LED and OLED TVs for transport.
Consult your owner's manual for specific instructions on your model.
EXTRA PROTECTION FOR BIG SCREEN TV'S
The above items are extremely fragile and subject to scratches. To provide extra protection, your Atlas representative will recommend the use of a special packing material called micro foam. The small additional cost for this material is well worth it to ensure that these expensive items do not sustain any damage during the move.
The preferred way to move electronic components is in their original carton with the original packing materials. If you don't have the original cartons, Atlas can pack them in standard boxes that best fit the item and secure them with bubble wrap, paper padding or Styrofoam for an extra charge.
Before moving computer components, back up all software
Disconnect all wiring and cables before the movers arrive
Draw a simple diagram or color-code wires before disconnecting to make reconnecting easier
Keep all components together and their boxes clearly labelled
Pack all wires and cables with their corresponding electronic unit
Small or loose accessories, like remote controls, should be packed with each component or placed in the designated "PARTS BOX" so they are not misplaced
Complete a list of all electronic components and computer equipment serial numbers prior to moving day and submit the list to your homeowner's insurance company
Movers are not permitted to take down TV antennas or satellite dishes, but we can make the arrangements to have this done for an extra cost.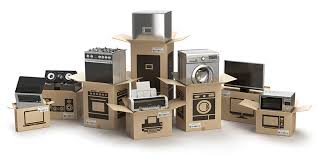 A garage sale is one of the easiest ways of disposing of unwanted possessions and is considered an environmentally responsible way of keeping items out of landfills.
Decide when to hold your sale. Weekends are best except for holiday weekends when many people are away. Mid-spring and mid-fall are generally the best garage sale periods.
Even if you are moving in the summer, it is a good idea to hold your garage sale in the spring. Getting rid of excess items often makes your home more attractive to potential buyers as it appears more spacious.
Most sales are set up in front of the home; in the garage, driveway or across the lawn area. If you have a large porch, use it for the more expensive items in case it suddenly starts to rain.
PLAN IN ADVANCE
It is better to price each article in advance of the sale so potential purchasers have an idea of what you expect to get for the item. A general rule of thumb is to charge between 40-50% of the store price if an item is new and 10-20% for used or older items.
Clean and dust all items before you put them out. Put a price on everything with self adhesive tags and be sure to include the size if you are selling clothing items.
GET THE WORD OUT
Put a notice in your community newspaper and take advantage of free online forums as well as social media networks. Advertise it as a "Moving Sale" instead of a garage sale. If you are selling furniture and other popular items, be sure to include that in your ad along with the address, date and time of the sale.
Create flyers and distribute them around your neighbourhood making sure to focus on high-traffic areas such as the local supermarket. Put a large sign on your lawn and the streets around your neighbourhood.
SALE DAY
Have plenty of shopping bags, small boxes and change available
Record the amount of float you started with
Have a calculator, pen and paper handy to total purchases
Arrange small items on tables
Clothing should be hung from a rack or pole
Furniture items should be fully assembled so people know there are no missing parts
Run an extension cord from the house or garage so people can test appliances
Place books, CD's and DVD's upright in cartons so people can easily see what is there
If you are using your garage to display items be sure to put a "not for sale" sign on items that you want to keep
Keep your cash box out of sight and keep larger bills in a money pouch around your waist
Keep the doors to your house locked
HAVE FUN
Have everything ready 15 minutes prior to start time as people will show up early
Offer refreshments and snacks to make your sale more inviting
Periodically re-arrange displays to keep them neat
Bargaining is considered a normal part of garage sales so have fun with it
Reduce the price of items near the end of the sale to dispose of what is left
Consider a 2 for 1 sale and have extra cardboard ready to make a "2 for 1" sale or "prices slashed" sign
AFTER THE SALE
Count the money and deduct the amount of float you started with to determine your total sales
Take down all the signs and flyers used to advertise the sale
Decide what to do with leftover items – you may want to consider donating useful items to a local Thrift Store or charity in your area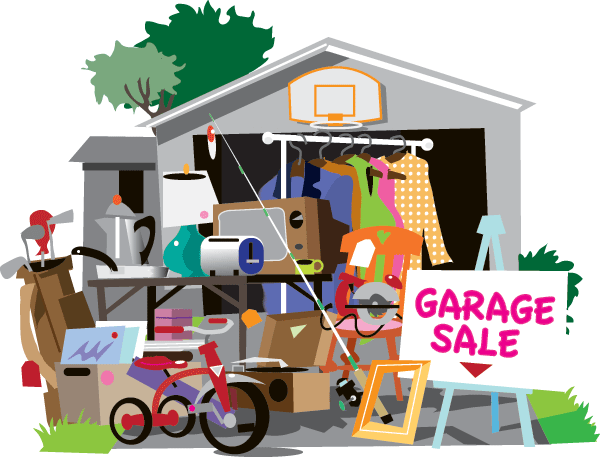 Personalized Moving Calendar
Fill in the fields below for a free, personalized moving checklist and calendar.
Atlas Van Lines has partnered with the
following companies to provide our customers
with bonuses and savings on move-related
products and services.
Our Partners

The Brick
Customers moving with Atlas Canada can take advantage of The Brick's Client Privilege Program which gives our customers preferred pricing on furniture, appliances and electronics.
Your Atlas Professional Moving Consultant will provide you with the information to take advantage of this special offer from The Brick.
Visit their website www.thebrick.com to see the great selection of home furnishings, appliances and electronics.
For more information contact your Atlas mover or email the Atlas Van Lines Canada Marketing Department at mktg@atlasvanlines.ca.

AVIS Car Rentals
Atlas Van Lines has partnered with Avis Car Rentals to provide our customers with special reduced rates for car rentals anywhere in North America.
As an Atlas Van Lines customer you will enjoy special rates from Avis on all categories of automobiles including premium vehicles and mini-vans.
As an extra bonus, Atlas customers and their family/friends will be entitled to use these special rates, not only in conjunction with a move but for any future car rentals with Avis. Follow this special link to book your Avis car rental.

The Moving In Canada eBook is a free resource, designed by moving industry professionals to help relieve stress and ease the process of moving.
Atlas Van Lines along with several leading experts, including Royal LePage, TD Canada Trust, Amerispec, MPD Law Firm, Welcome Home Relocations, and Hansen's Forwarding, have compiled the best tips and advice to help you with every step of your move.
From buying or selling a home, finding a rental property, home inspections, legal services, choosing a mover to shipping vehicles, this eBook has something for you.
To view the Moving In Canada eBook, click the button below to download the pdf.