Making Moving As Easy As 1, 2, 3…
Making A Long-Distance
Move with Atlas Canada
Are you making a long distance move? Congratulations on your new adventure! Atlas Van Lines has been proudly moving Canadians all over the country for over 55 years with a network of more than 100 movers in every province and territory. Whether you are moving within your home province, or cross-country, trust your possessions to one of the most established and reliable van lines in Canada.
At Atlas Van Lines (Canada) Ltd. we understand that the contents of your home — which likely include some of your most prized possessions — are extremely important to you and moving them several hundreds or thousands of miles can make you feel pretty anxious.
But we want you to know that the professionals at Atlas Van Lines have many years of experience. When you trust one of our movers in Canada to move the things that matter to you, we treat those items with care and are fully licensed and insured.
When most people picture themselves packing and moving to a new house, they often imagine doing a long-distance, cross-country move. But depending on the details, relocating to another part of your city can be just as stressful and time-consuming as moving to another province. 
Are you moving to a new house and exploring your relocation options? Request your FREE Atlas Van Lines moving estimate today. We'll immediately put you in touch with a moving expert in your area!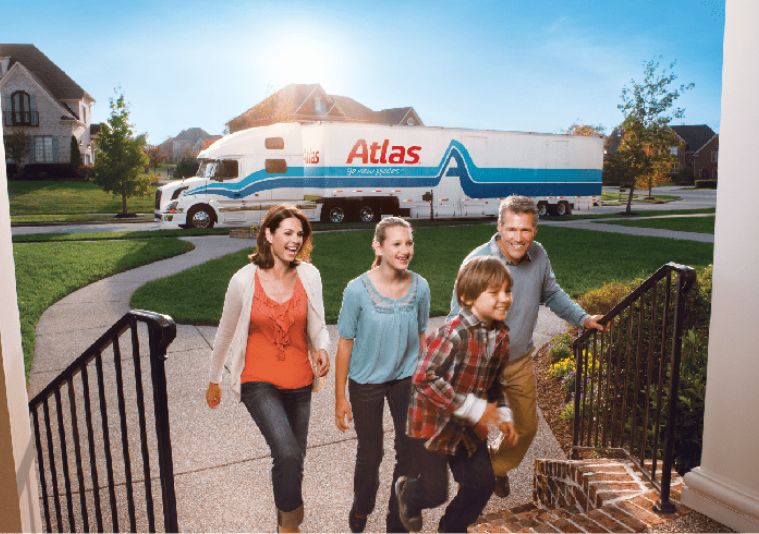 You will meet with one of our Professional Moving Consultants prior to moving day to discuss any concerns you might have about your long distance move. The consultant will do an item-by-item survey of everything that needs to be moved. She/he will prepare a pricing estimate for you, as well as help you establish packing, pickup and delivery timelines. Everything about your long-distance move is monitored so it all happens without a hitch.
Once all your items are on the truck, the truck will be weighed. The pre-load weight is deducted from the post-load weight to come to the actual shipment weight which is used to figure out your shipment charges.
Your Atlas Van Lines Professional Moving Consultant will give you a guarantee that their estimated weight won't go over 10% of what they estimated as long as no items are added to your shipment after the consultant does the in-home survey.
Experienced Professional Van Operators
On your moving day, the Professional Van Operator is at the wheel. He/She and the crew know how to safely handle all your possessions and to load them properly. Floors will be protected by runners during loading and unloading. Moving pads will be used on your furniture to prevent damage. Any white or light-coloured upholstery you have is wrapped in clear plastic followed by quilted moving pads.
Attention and Care At Your New Home
When we arrive at your home, our crew will put your furniture where you want it. They will also carry packed items to the kitchen, bedrooms, basement and garage. They will reassemble the beds, unroll carpets and place them where you want them.
Diligent Unpacking
Any boxes that were packed by Atlas Van Lines personnel will be unpacked by them. Contents will be put on safe and convenient surfaces for you to place them where you would like. They will take unpacking materials and debris with them when they leave.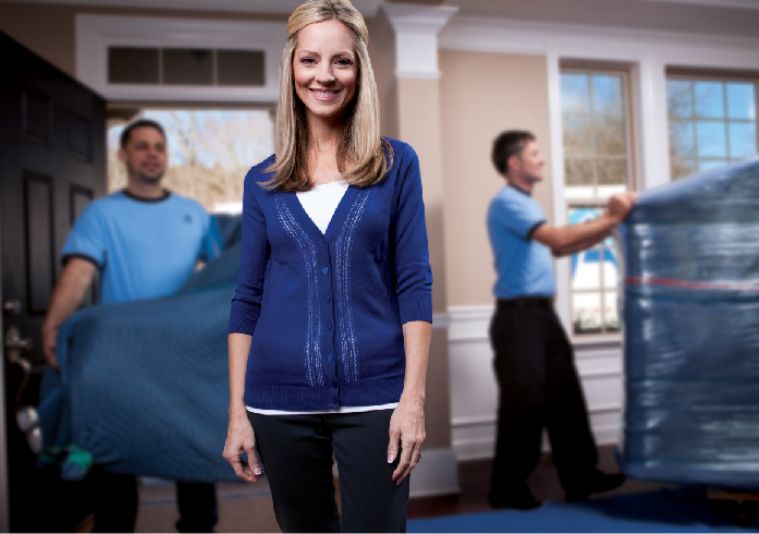 Why Choose Atlas Van Lines
We give you a service guarantee under our Quality in Motion program. This program is unique among moving companies and you can learn more about it here.
As part of our service guarantee, Atlas Canada Professional Moving Consultants will clearly explain every part of the moving process to you and that includes:
How estimated costs were calculated

How your shipment will be cared for and moved to your new location;

How the schedule of services is determined

When you can expect to hear from the van driver

How your belongings will be catalogued

An explanation of transit protection plans

An explanation of unpacking services

An explanation of payment options available to you
In addition, the Professional Moving Consultant and Professional Van Operator are required to complete an Essential Services Form for every move ensuring everything that should take place, does take place. These include:
A confirmation letter sent to customer

A Quality Assurance Certificate issued and receipted by the customer

Use of a set up carton on the move

Packing labels that were properly completed

All upholstered furniture was plastic wrapped

Floor runners and banister protection was used

Proper set up and reassembly of all items that were disassembled by the mover

Unpacking service performed to the customer's satisfaction (if packing service was purchased)

Customers were contacted a minimum of 24-48 hours in advance of delivery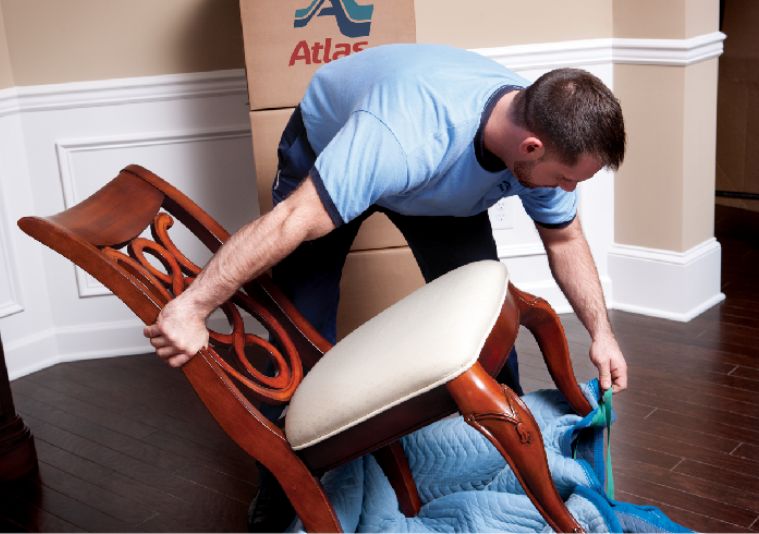 Charges for local moves are normally based on an hourly rate. The hourly rate will depend on the size of truck required, number of crew needed to service your move, and the time of year you are moving.
Be sure to let your Atlas mover know if you are moving appliances and bulky items such as a piano, hot tub, etc. If you live in an apartment or condo, be sure to book the elevator as far in advance as possible as there may be other people moving in and moving out that day.
Each piece of furniture will be wrapped in clean quilted moving blankets and your home will be protected with floor runners and padding on bannisters and railings.
Professional packing service is also available on local moves. If you are doing some or all of the packing yourself, your Atlas mover agent can provide you with cartons specially designed for moving at an additional cost.
Gently used packing cartons are also available at a reduced cost.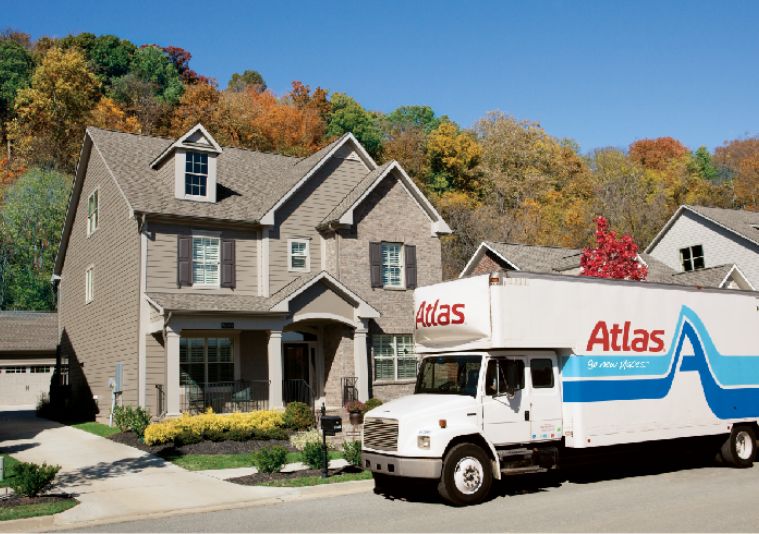 How long does it take to move locally?
The exact number of hours it takes to do a local move can be hard to predict. In our experience, there are three main factors that might influence the hours needed to complete a short-distance move:
1. The Size of Your Household
If you're transporting and packing a lot of stuff, moving your household may take a bit more time. To put it another way, it's often much faster and easier to pack up a one or two-bedroom apartment than it is to do the same for a three or four-bedroom home. Although your Atlas Van Lines moving coordinator will be able to give you a more precise local moving estimate, you may want to budget around one or two hours per room.
2. The Items You're Moving
If you've got a collection of full-sized antique pianos in your basement, it doesn't matter if your house is otherwise on the smaller end – it's still going to take a substantial amount of time to get you packed up and loaded. From heavy-duty china cabinets to freezers, furniture, and filing cabinets, most households will have a few heavier items that need to be handled with extra care. If you have a lot of belongings that fall into this category, you may need to give yourself a time buffer.
3. Your Possession Dates
Sometimes delays aren't the result of anything you or your movers could have done differently. For example, many people who are relocating to a house from an apartment will have gaps between their move-out dates and their possession dates. If this is you, the work of packing, pickup, and coordinating an extended delivery schedule might add a bit of extra time to your relocation timeline. 
In most cases, however, it should be possible for local moves to be completed within a single working day. Request your FREE moving estimate to learn more.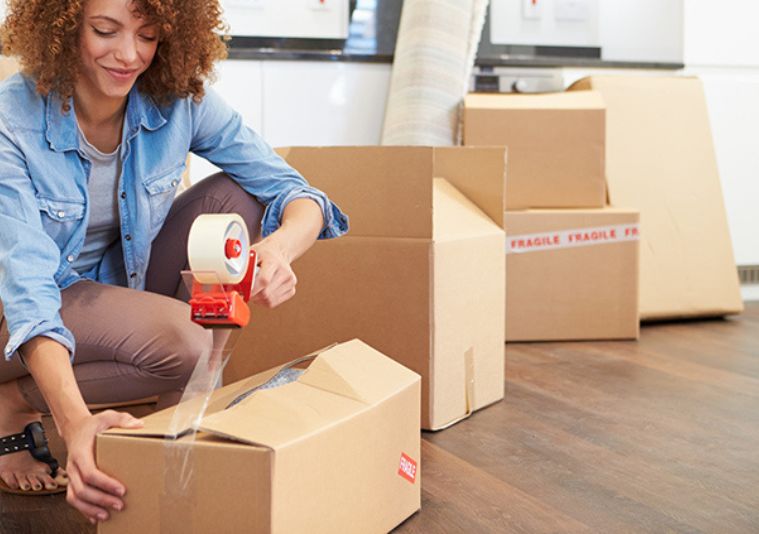 Request An Estimate Today
We don't take chances with your precious cargo and neither should you. We are one of the most reputable moving companies in Canada and come recommended by the Better Business Bureau. We are also a member in good standing of the Canadian Association of Movers.
Whether you're planning a long-distance relocation or local move with your family, our teams have the experience and skill needed to get your belongings packed up, loaded, and relocated quickly. Plus, we'll even help you assemble any beds, tables, or furniture that you may have. 
Contact us to learn more about how we can make your household relocation as easy as 1-2-3.