If your new home isn't ready for occupancy,
your household goods may be stored in an 
Atlas mover's warehouse until you are ready
to accept them.
Do you need a simple, easy, and efficient way to transport your property? Does the thought of loading your belongings into trucks seem a little daunting ahead of your move?
Our Affinity Vault moving and storage container could be the solution you've been looking for! These moving containers are:

Secure and convenient

Able to be shipped ahead of you

Fantastic for temporary storage
If the idea of keeping your property in a single, centralized, and easy-to-locate spot sounds appealing, you will fall head over heels for our moving storage containers. 

Unlike traditional moving companies, we've learned over the years that if you want your move to be stress and hassle-free, you need to keep things simple. No matter which way you slice it, moving containers can make your relocation efforts easier. 

Contact us to learn more about how Atlas Van Lines can help you relocate with efficiency!
Long Distance Moving Containers Canada
Moving can be a difficult ordeal when you're moving to another neighbourhood in your city. But when planning to relocate to another community or province, the planning phase can quickly become convoluted. 
Possession dates can be hard to coordinate when you're not in town. And sometimes, you want to work these things out in person. When you're transporting your belongings with moving containers, you can have the flexibility you need.  

Here are some of the additional perks that you can enjoy with our moving container solutions:
1. We Can Handle Small Shipments
Whether you're a business or an individual, we understand that long-distance relocations come in all shapes and sizes. Some people have lots of property to transport, and others are more minimalist. Our moving and storage containers allow for the transportation and storage of smaller shipments. If you've got property that you would like to ship, our moving containers can accommodate you.
2. We Have a Top-Notch Warehouse Facility
In many cases, the risk of using a moving container is that your property could be one heatwave or mouse infestation away from being permanently damaged for good. At Atlas Van Lines, we keep our warehouse storage facilities clean, temperature-regulated, and free from pests. In many ways, protecting your property is our top priority. Rest assured, we provide secure storage for your personal and priced belongings.
3. We Have a Tracking System
After a long trip, the last thing you want to hear from your movers is that your belongings were lost in transit. For these reasons and more, our moving and storage containers are logged into our internal tracking system. This way, we'll always know where your property is – and we'll be able to deliver it to you in a timely fashion.
Are you interested in using moving containers for your long-distance move? Request your FREE moving estimate today!
In which locations are our portable storage containers available?

Our storage containers can be found all over Canada. Shipping locations and local service areas include:
Markham

Halifax

Toronto

Vancouver

Calgary

Winnipeg

Kitchener

Edmonton

And more!
Contact us to learn more about our moving and storage container centres!
Moving  Containers Cost in Canada

Because the circumstances and logistics of move can differ, the cost of renting a moving container can vary widely. Some of the factors that could affect your final cost include:
The total weight of your belongings;

The distance between your current location and your final designation and

The length of time that you think you'll have to leave your items in storage for
All of that being said, you can expect it to cost anywhere from three to four figures. 
If you need a more precise estimate for your situation, contact us to learn more about our Affinity Vault container solutions. We're here to help!
We Take Care
All Atlas movers' warehouses are clean, modern, climate-controlled facilities that are specifically designed for maximum safety. These warehouses are government-approved, heated, pest-controlled, and have modern security systems.
Your possessions will be carefully wrapped in protective moving blankets and placed inside clean, dust-free storage vaults. Your name and the number of storage vaults assigned to your shipment will be affixed to the exterior of the vaults, and this same information will be entered into an internal tracking system.

We Keep Track
Each piece of your shipment will be carefully inventoried and inspected for transit damage that may have occurred on the move between your residence and the warehouse.
Special tracking is used in the warehouse to store sofas and other large upholstered items. Each piece will be wrapped in clean, heavy-duty, clear plastic for extra protection. Should you require access to your storage vaults during the storage period, this can be arranged through your local Atlas mover.
Atlas Canada's goal is to keep your valued possessions safe until you are ready to move them to your new home.
Affinity Vault Containers
Affinity Vaults are specially engineered moving containers used to transport and store small shipments easily. With guaranteed dates, your household goods will be moved safely across the country in record time. We also offer extended deliveries with flexible scheduling where you can store your "Exclusive-Use" Affinity Vault containers in our climate-controlled warehouses until your home is move-in ready.
Flexible Delivery & Guaranteed Dates
When you book an Affinity Vault container for your small shipment, your delivery date can be guaranteed as transit times are not affected by weight or number of containers. Extended deliveries and flexible scheduling are also available for your convenience.

Safe Storage
All furniture is padded and protected inside your "Exclusive-Use" Affinity Vault container the same way it is protected on a traditional move. In addition, your valuables will be locked and sealed inside your waterproof container until your belongings are ready to be delivered. If your new home isn't ready for occupancy, our Atlas Agents offer storage options for your Affinity Vault in climate-controlled warehouses.
Let's build your container move today
Service is Available in Centres Across Canada, including Halifax, Montreal, Ottawa, Markham, Toronto, Mississauga, Kitchener, London, Kingston, Winnipeg, Regina, Saskatoon, Calgary, Edmonton, Vancouver and Victoria.
Atlas Canada can build you a great Affinity Vault solution for your move and you can get started by contacting us today.
Call us at 1-800 268-5051
Email us at avail@atlasvanlines.ca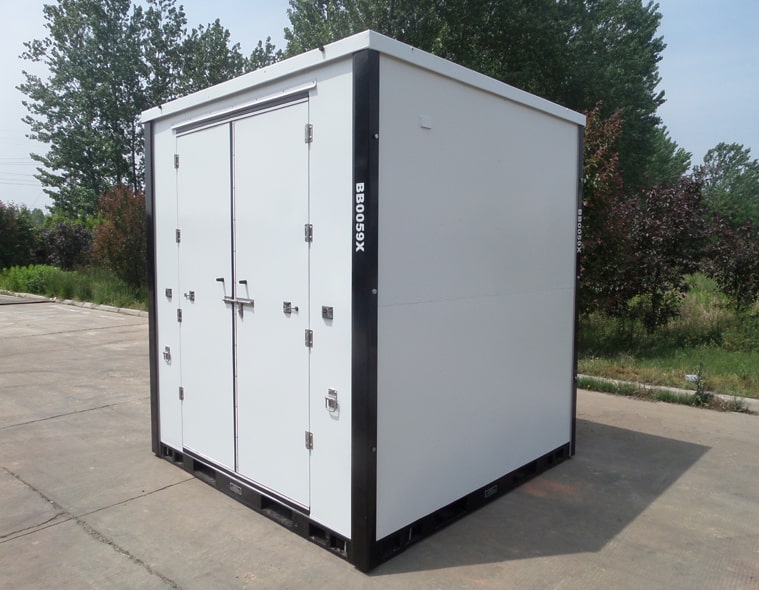 FAQ
There are many different types of containers used to transport materials. All shipping containers are typically extremely large, weather-resistant steel-made boxes that are designed to be shipped across sea containing cargo. However, over years of development in the logistics industry, new names have emerged to define shipping containers. 
Shipping containers are identified as being between 20 feet and 40 feet long. These containers are traditionally constructed from Corten steel. 
Storage containers are designed to store goods during transit, so the name "shipping containers" can actually be used interchangeably. However, storage containers may also be used in different sizes and different metals. Some of these containers are made from lightweight aluminum and cannot be transported via sea but are used to store commercial and personal goods. There are cargo containers, which are simply another name for shipping containers, and Conex containers. Again, CONEX containers are another type of shipping container, but CONEX containers can also be used to stack more efficiently to store more cargo in a single location.
If you are anticipating a delivery of storage containers, you need to ensure adequate space for the delivery truck to arrive. Consider that the truck will need to make very wide turns to get in and around the property. Check for clearance under gates, tree limbs, power lines, and other obstructions. Some drivers can work with 10 feet of clearance, but ideally, there should be at least 15 feet of clearance. 
Make sure a flat, hard surface is available to sit containers on. Mud, grass, and moist dirt will sink under the weight of a delivery truck, not to mention the containers themselves.
You may also wish to place wooden blocks or plywood squares under the container's corners, although your delivery team may do this on your behalf. This ensures that the doorframes are kept square, and any unstable ground is mitigated. 
Ensure an obstruction-free area is available to deliver the containers. Trees, buildings, and even power lines can get in the way of a delivery truck. Ensure there is adequate space around where the container will also be placed. Anticipate, as well, potential site changes, like new landscaping, seasonal changes, and so on. 
The Canada Border Services Agency (CBSA) screens all goods entering Canada, which means it is not out of the ordinary for a moving container to be examined. The CBSA conducts examinations to ensure the goods inside the container will not cause harm and to confirm whether it contains dutiable or taxable goods. The ultimate goal is to make sure that only items permissible by law are crossing the Canadian border. Thus, if you track your moving container and see a status that says "Held at Customs," it simply means the container is being held for inspection and will likely be examined and processed within a day or two. 
The CBSA aims to complete all inspections in 12-48 hours, however, during high traffic periods, this can take even longer.
Generally speaking, the shipping company is responsible for damage to a container or its content, assuming the client can prove that their belongings were in good condition when given to the shipping company. That said, Atlas Van Lines takes great care when storing and preparing your moving containers. For example, our dedicated team will carefully wrap your belongings in protective moving blankets, before placing them inside clean, wooden, dust-free storage vaults, ensuring minimal damage is sustained on the journey. Once the container arrives at its destination, each of your possessions, along with the container as a whole, will be inspected and inventoried. From there, each piece will be wrapped in heavy-duty plastic for added protection. At the end of the day, Atlas Van Lines' #1 goal is to ensure the safe and damage-free transport of your belongings. 
Atlas Van Lines is pleased to provide free quotes to all prospective clients. We specialize in long-distance moves across Canada and abroad. Though we offer traditional transport services in the form of trucks, we also have Affinity Vault moving containers to make moving even more convenient. Secure, fast, and safe, our fleet of Affinity Vault shipping containers makes for a hassle-free move experience. They are also a great short-term storage solution. Atlas Van Lines is pleased to offer moving containers to our Canada-based clients for moves of all sizes. Between our flexibility to handle small shipments, our top-notch warehouse facilities, and our state-of-the-art tracking system, there is no better way to move in Canada than using moving containers. Get in touch today and receive a free quote for your long-distance move.