Long Distance Moving Companies in Oakville
Long-distance moving is often labour-intensive and intimidating for many movers, especially if this is your first time moving. There is much more to do and think about when relocating across the country than when moving just a few minutes away. Thankfully, with the help of Atlas Canada, homeowners in the Oakville, Ontario, region can stress less knowing their items are in great hands.
Our team of skilled long-distance movers in Oakville has more than 50 years of experience assisting Canadians with moving across the country and all over the world. We have more than 100 movers in every Canadian province and territory. So whether you're moving across the province or the country, you can rest easy knowing you put your trust in one of the most established and reliable van lines in Canada. We are prepared to ensure you and your valuable possessions arrive safely and worry-free at your new home.
Are you preparing to move and exploring your relocation options? Request your free long-distance moving quote from Atlas Canada in Oakville, Ontario, today!
Long-Distance Moving Company in Oakville, Ontario
Atlas Canada prides itself on offering a selection of comprehensive moving services, including: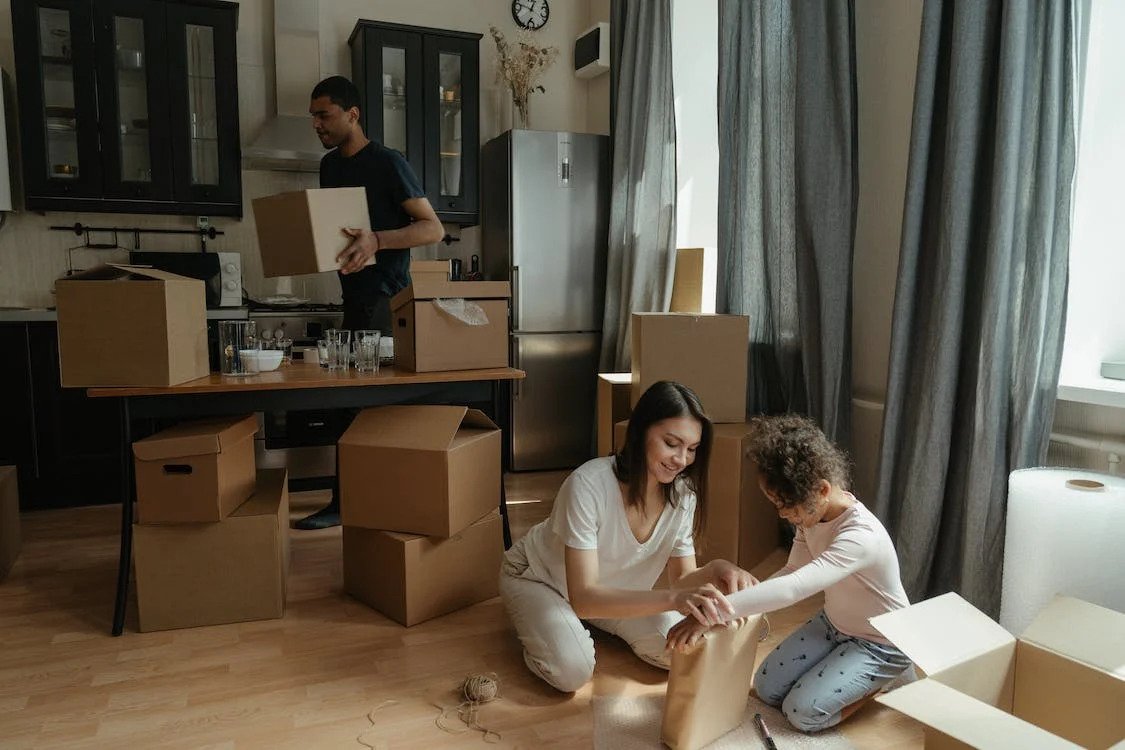 Household moving 

Cross border moving

International moving 

Corporate relocation 

Logistics

Moving container and storage
Request a free moving quote from Atlas Canada's long-distance movers today!
Contact us to get started.
FAQ
As a general rule, long-distance moving is when you're relocating outside your current city or more than 160 kilometres away from your current residence. At Atlas Van Lines (Canada) Ltd., we acknowledge that the contents of your home — which likely include some of your most prized possessions — are of vital importance to you. Therefore, moving them several hundred or thousands of miles is sure to make you feel pretty anxious. But we want you to know that the professionals at Atlas Canada have several years of experience. When you trust one of our movers in Canada to relocate the things that matter to you, we treat those items with the utmost care and are fully licensed and insured.
As mentioned before, long-distance moving is often labour-intensive and a daunting task for many movers. This is especially true if this is your first time moving as you likely don't know what to expect. This is one of the reasons many homeowners today are turning to professional movers to ensure their move goes as smoothly as possible.
The following are just a few of the benefits of hiring a moving company:
You will feel less stressed knowing that your belongings are being transported safely and securely.
If you need to move in a hurry, our experienced movers can help you pack and unpack.
You can leave all the heavy lifting to our professional movers, who are trained to move hefty objects safely while avoiding injury.
By working with a professional long-distance moving company such as Atlas Canada, we can help save you a significant amount of time that will enable you to concentrate on other essential things.
By choosing an experienced moving company like Atlas Canada, you can focus on moving yourself and your family to your new home safely. And you can rest assured that your personal belongings and furniture are protected while in transport. We've worked with hundreds of thousands of Canadians over the years. Therefore, no matter how big of a job, we guarantee the professional moving team at Atlas Canada has your back.
Once a move-in date is established, you'll want to start planning immediately. The sooner you begin planning, the easier everything will be for you on the big day. If, for some reason, you cannot start planning right away, then you'll want to make sure you begin browsing through moving companies at least eight weeks in advance so that you won't feel pressured to choose one immediately. You'll want to get multiple in-home estimates so you can decide which company will work best for you.
At Atlas Canada, we know that moving can quickly become overwhelming, so we've put together this personal moving guide to help make the process more manageable.
4 Weeks Before Moving Day
Go through your whole house, including the attic, garage and storage shed, and determine if any items can be discarded or donated to charity. You might also consider having a garage sale to help downsize before the move.
Contact your moving company agent, such as one of our professional movers at Atlas Canada, and request an accurate estimate of your moving charges. This is where the in-home estimates come in, especially once you've removed any items that won't be moving to your new home.
Begin arranging for the transfer of records (school, medical, insurance, etc.). These things can take time, so if you start updating them now, you won't have to worry and feel rushed later on.
Schedule the connection date for gas/electricity, water, phone, internet, and cable. Sometimes appointments are booked a few weeks out, so this way, everything will be transferred and set up right when you move in.
Sign up for the mail forwarding service with Canada Post. They recommend you sign up 30 days before you plan to move to ensure you don't miss any mail.
If you're taking your appliances with you, such as your washer and dryer, you need to book a reliable

long-distance moving services

firm to prepare them for moving. This also goes for items such as grandfather clocks. Your Atlas representative can help make these arrangements.
3 Weeks Before Moving Day
Start packing if you have planned to do some or all of it yourself. The amount of time and effort it takes to pack up a home is often more difficult than most people expect, so you'll want to give yourself as much time as possible.
The sooner you start packing the non-essentials, the less you'll have to worry about as you get closer to your moving date. You could even begin packing as soon as you know your move-in date. If you're unsure where to start, check out our packing tips on our website.
You can also arrange to purchase cartons and other supplies from your Atlas representative, as they are much stronger than discarded cartons from the grocery store.
Now is a great time to arrange for the transportation of any pets, including booking any kennels you may need. Make sure you obtain your pet's health records from your veterinarian to give to their new one.
Depending on how far you're moving, transporting frozen foods is not a good idea, so plan to use up frozen food and staples. This way, you will also have fewer pantry items to pack. Start only buying what will be used before moving. Don't forget; you cannot transport perishables.
Dispose of flammables that cannot be transported, such as lighter fluid, paint, oily rags, matches, charcoal, pool chemicals, bleach, oven cleaner or ammunition, as they can explode and cause damage to your shipment. Movers are not licensed to carry dangerous goods on the moving van. Your Atlas representative can provide you with a complete list of "non-admissible" items.
2 Weeks Before Moving Day
Draw up a floor plan of your new home and indicate furniture placement. It makes moving in twice as easy as your movers will know precisely where to place everything.
If you're driving your vehicle to your new home, consider getting it fully checked and serviced to prepare for travelling.
Arrange to discontinue your utilities, cable, internet and any delivery services at your old home.
Make sure to return any borrowed items you come across while packing. Also, don't forget to collect items you've lent to family and friends or to pick up anything you have out for repairs or at the cleaners.
Now is an excellent time to arrange for care for any young children and/or pets, such as with a friend or grandparent, on packing, loading and delivery days. Knowing they're being looked after will help you get the job done faster and more efficiently.
1 Week Before Moving Day
It's time for the final preparations. Finish packing all suitcases and basic essentials. Don't forget to check what the weather will be like for the first week while packing clothes. Also, make sure you plan to carry any valuable documents, currency and jewellery with you — never put these on the moving van.
If you are taking your appliances with you, clean your freezer and refrigerator 24-48 hours prior to moving day. You need to give these appliances enough time to dry properly. Add a charcoal filter or baking soda fridge pack to keep the appliance fresh, and leave any lids and doors open until they dry.
Packers and movers do not remove items attached to walls and ceilings, such as curtain rods, drapery tracks, blinds, etc. Make sure these are removed before moving day.
Drain water from garden hoses and oil/fuel from lawnmowers and other machinery.
Confirm that you have important papers, keys, medications, and plane tickets.
Moving Day
Old Home:
Make sure you have a clear workspace available for packers. Let them know what items are fragile, what's moving, and what's staying.
Plan to stay until the moving van has left so that you can:

Tour the house with the van operator during inventory.
Sign the Bill of Lading.
Confirm they have the correct new address, delivery date and contact numbers.
Do a final walkthrough of the house.
Double check that windows and doors are locked, utilities are discontinued or turned off, keys are transferred, and lights are out.
New Home:
Plan to arrive at your new home a day ahead of the moving van so you can verify that the utilities are turned on, and the floor plan is accurate.
Use the inventory list to check off unloaded items.
Don't forget to arrange to have your appliances installed.
Our experienced movers at Atlas Canada will calculate how many movers you need. Obviously, the bigger the house and the more stuff you have, the more movers you need to get the job done. When deciding on the number of movers, there are several factors to consider. Below is a list of variables we will need to take into consideration:
The size of your house.
How much stuff you have.
How far you are moving.
How long you need the movers for.
The type of items you are moving.
Whether the movers are

packing supplies

for you.
The type of moving services you've requested (i.e., partial service, where you load and/or unload the truck or full service, where the movers do it all).
Whether there are any obstacles in your new or old home (e.g., several flights of stairs, narrow doorways, long-distance carrying of heavy items).
For a more accurate estimate, having an in-home estimate is necessary. One of Atlas Canada's professional moving consultants will meet with you prior to moving day and do an item-by-item survey of everything that needs to be moved before preparing a pricing estimate, which will include the number of movers we feel you will need for long-distance moving.
One way to save money when moving is to do as much of the work as possible yourself. While you can certainly hire our professionals at Atlas Canada to pack up your belongings for you, if you have the time, doing it yourself will save you money.
Also, the overall weight of the items you want to bring to your new destination is one of several variables that may affect the final price of long-distance moving. To reduce this cost, we strongly advise downsizing and donating items that you do not intend to use in your next home.
Lastly, think about moving during the off-season. Most people like to move during the summer, which often makes it the most expensive time of year to hire a moving company. Moving on a weekday or in the middle of the month can help cut your costs as well.
Request a free moving quote from Atlas Canada's long-distance moving company in Oakville, Ontario, today!