Long Distance Moving Companies in Etobicoke
Long-distance moving is a daunting task that many people find to be time-consuming and off-putting — especially if they have never moved before. Unlike with a local move, there are many more things you need to consider and do before beginning your long-distance move.
Thankfully, with the help of Atlas Canada, homeowners in the Etobicoke, Ontario, area can quickly get to their new location without being concerned about the details.
Our team of experienced long-distance movers in Etobicoke has assisted Canadians with moving across the country and worldwide for over 50 years.
With more than 100 movers in every Canadian province and territory, whether you're moving across the province or the country, you can rest easy knowing that you put your trust in one of the most established and reputable van lines in Canada.
We are ready to safely transport you and all of your belongings to your new home.
Long distance moving companies in Etobicoke
Atlas Canada prides itself on offering a selection of comprehensive moving services, including: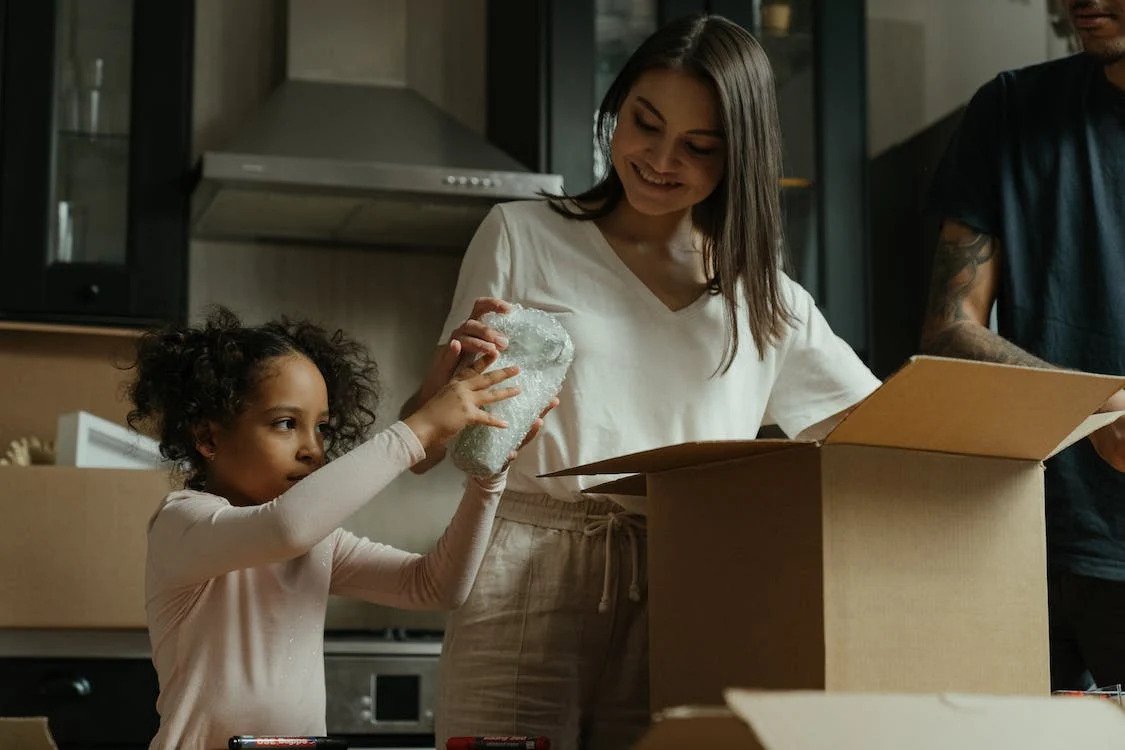 Household moving 

Cross border moving

International moving 

Corporate relocation 

Logistics

Moving container and storage
 Are you preparing to move and exploring your relocation options? Request your free long-distance moving quote from Atlas Van Lines (Canada) Ltd. in Etobicoke, Ontario, today!
Contact us to get started.
FAQ
Renting a truck can be ideal when making a small, local move. Not only would this save you money, but with the help of a few friends, you will be able to fill up the truck in no time.
However, you should certainly consider hiring a moving company for a large, complicated, long-distance move. Here's why:
1. No Heavy Lifting or Injury
At Atlas Canada, we can do all of the lifting for you. Our experienced movers are trained to move hefty objects safely while avoiding injury.
2. Stairs or Accessibility Concerns
When your home is a long distance from the road, or it has many stairs, moving can be physically draining or difficult. Hiring professional movers will ensure that your items get transported safely.
4. Some Items Need Special Care
If you own a piano or a grandfather clock, they can be challenging to move. You could risk damaging them if they are handled incorrectly. Moving companies have movers trained to transport specialty items and will help ensure they arrive at your new home safely.
It's Time Saving
There is never enough time in the day when you're planning to move. With already busy schedules, you still need time to organize, pack, load, transport and unload your belongings. Hiring a professional long-distance moving company can save you time, as they will do much of the work for you.
5. They're Professionals At What They Do
When working with professional movers with years of experience, you can be confident that your belongings are transported safely and securely. Professional movers know how to pivot, maneuver, wrap, drape and protect every item, as well as your walls, floors, stairs, handrails and doorways. Experienced movers know the best ways to load your items onto the truck safely and correctly.
They will ensure your belongings don't move around or break during transport, as driving long distances guarantees your things will be jostled around a lot more than if you were moving locally. By hiring professional movers like ours at Atlas Canada, you can rest easy knowing we will treat your possessions with the utmost care.
It can quickly become an overwhelming decision when figuring out what moving company to hire. To help you make this decision effortlessly, here's what you should consider when choosing a long-distance moving company:
Reputation and Experience
The long-distance moving company you choose should be reputable. This means you should be looking for companies that have a lot of experience and great reviews to back it up. Atlas Canada is a perfect example of a reputable and reliable moving company.
Our family of movers start by earning your trust, keeping our promises and exceeding expectations daily. That's why our reputation precedes us as one of North America's leading household goods movers and transportation businesses. We are the "national mover of choice" for families and businesses. With 55 years of moving experience, we are true long-distance moving experts.
Good Customer Service
Next, you want to determine whether the company offers good customer service. Quality customer service ensures you and your valuable possessions arrive safely at your new destination. That's why we take a customer-first approach to moving here at Atlas Canada — always putting our customers' needs first.
Our experienced van operator and crew will safely load all of your items onto the moving truck. We make sure to use protective blankets, quilted moving pads, clear plastic, furniture pads to safeguard your possessions, and runners to protect your floors.
If our movers are packing for you, our Atlas Canada crew members will do so and take apart and reassemble items such as bed frames and tables. At your new home, the team will unload your belongings carefully and attentively — just let them know where each item goes. We will also unpack any boxes we packed for you and dispose of unpacking materials and debris when we leave.
You can always expect nothing more than excellent customer service from Atlas Canada.
Flexibility and Communication
Flexibility and good communication are essential when planning a long-distance move. Your moving company should be able to adapt to any unexpected schedule changes and constantly communicates with you. Here at Atlas Canada, this is precisely what we offer.
Our movers will discuss any concerns with you before items are packed, disassembled, removed, reassembled and positioned. We make a plan to load and unload items at a time that suits you.
Our moving consultants must clearly communicate each part of the moving process to our customers, thanks to our quality assurance certificate program, including:
How estimated costs were calculated.
How your shipment will be cared for and moved to your new location.
How the schedule of services is determined.
When you can expect to hear from your move driver.
How your belongings will be catalogued.
Explanation of transit protection plans.
Explanation of unpacking services.
Explanation of the payment options available on your move.
Contact Atlas Canada today and we'll connect you in no time with one of our local movers.
Storage Options
Will you need storage either before or after you move? Do you need to store your belongings temporarily while your new house is completed? Then you should consider a moving company that offers storage solutions. Luckily, Atlas Canada has just what you need.
If the idea of keeping your possessions in a single, easy-to-locate spot sounds perfect, then you will adore our Affinity Vault moving storage containers. These containers are safe, convenient, and excellent for short-term storage.
Also, we can ship them ahead of you wherever you need them. Inside each container, valuables (e.g., jewellery, important documents, etc.) are locked and sealed inside a waterproof container, and furniture is padded and wrapped in moving blankets. Each moving container is equipped with a state-of-the-art tracking system that allows us to locate your items at all times.
Knowing that your belongings are safeguarded in Atlas Van Lines' secure moving containers will give you the peace of mind you need during your move. Contact Atlas Canada in Etobicoke, Ontario, today to learn more about our moving container storage solutions.
While every long-distance moving company offers various services, Atlas Canada is pleased to provide the following:
Household moving
Cross border moving
International moving
Corporate relocation
Logistics
Moving containers and storage
Moving supplies
Packing and unpacking
Call today to speak with one of our Atlas Canada representatives to learn more about each service we offer in Etobicoke, Ontario.
The number of movers will depend on the size of your house and how much stuff you have. Our experienced moving consultants at Atlas Canada will determine how many movers will be required, as there are several factors to consider, including:
The size of your house.
How much stuff you have.
How far you are moving.
How long you need the movers for.
The type of items you are moving.
Whether the movers are packing items for you.
The type of moving services you've requested (i.e., partial service, where you load and/or unload the truck or full service, where the movers do it all).
Whether there are any obstacles in your new or old home (e.g., several flights of stairs, narrow doorways, long-distance carrying of heavy items).
For a more accurate estimate of movers, an in-home estimate is essential. A professional moving consultant from Atlas Canada will meet with you ahead of time and do an item-by-item survey of your home before preparing an estimate.
Once you have a moving date, you should start planning right away. The earlier you begin planning, the smoother everything will be on moving day.
You'll want to make sure you start researching long-distance moving companies at least eight weeks in advance so that you won't feel rushed to decide on one too quickly. Get multiple in-home estimates to determine what company will work best for you.
At Atlas Canada, we understand how quickly moving can become overwhelming. Follow our personal moving guide to help you stay on schedule.
4 Weeks Before Moving Day
Sort through your whole house, even the attic, garage and storage shed. Decide on what you can toss or donate to charity. A garage can also help you to downsize before the move.
Request a proper estimate of your moving charges from your moving company agent, such as from one of our professional movers at Atlas Canada. Now that you've downsized, the agent can give you a more accurate in-home estimate.
Begin transferring records (e.g., school, medical, insurance, etc.), as these things can take time.
Schedule the connection date for gas/electricity, water, phone, internet, and cable. This way, they will be set up and ready to go immediately.
Sign up for the mail forwarding service with Canada Post.
Book a reliable service firm to prepare your appliances for moving, such as your washer and dryer. Inform your moving company agent of special items you own, such as grandfather clocks or pianos, that need to be prepped for the move. Your Atlas representative can help make these arrangements.
3 Weeks Before Moving Day
Start packing. The time and effort it takes to pack up an entire house is often more complex than most people expect, so give yourself plenty of time. Check out our packing tips on our website if you don't know where to start.
If you have pets, make transportation arrangements. Don't forget to get your pet's health records from your veterinarian.
Transporting frozen foods is not recommended, so plan to use them up. The same goes for pantry items, so you'll have less to pack. Begin buying only what you will eat before moving. Reminder; you cannot transport perishables.
Movers are not licensed to carry dangerous goods on the moving van, so you must dispose of any flammables. Ask your Atlas representative for a complete list of "non-admissible" items.
2 Weeks Before Moving Day
Create a new home floor plan and designate where your furniture will go. It makes moving in twice as easy as your movers will know precisely where to place everything.
If you're planning on driving to your new home, get your vehicle fully serviced to prepare for travelling.
Schedule the disconnection of your utilities, cable, and internet and stop any delivery services to your old home.
Give back any borrowed items you find while packing. Also, collect items you've loaned out to friends and family, and pick up any dry cleaning or items out for repair.
If you have young children and/or pets, arrange for care with a friend or grandparent on packing, loading and delivery days.
1 Week Before Moving Day
Final preparation time! Finish packing your basic essentials into your suitcases. Plan to carry valuable documents, currency and jewellery with you — never put these on the moving truck.
Clean your refrigerator and freezer 24-48 hours before moving day if you plan to take them with you, as they need enough time to dry properly. Leave any lids and doors open to dry.
Remove any items attached to walls and ceilings, such as curtain rods, drapery tracks, and blinds, as packers and movers don't remove them for you.
Drain water from garden hoses. Empty out any oil/fuel from lawnmowers and other machinery.
Double-check that you have all of your important papers, keys, medications, and plane tickets.
Moving Day
Old Home:
Keep the area organized and accessible for packers. Let movers know what items are breakable and what is and isn't moving.
Plan to stay until the moving van has left so that you can:

Tour the house with the van operator during inventory.
Sign the Bill of Lading.
Confirm they have the correct new address, delivery date and contact numbers.
Do a final walkthrough of the house.
Double check that windows and doors are locked, utilities are discontinued or turned off, keys are transferred, and lights are out.
New Home:
Plan to reach your new place a day before the moving van. This way, you can confirm utilities are on and that your floor plan is correct.
Check your inventory list to make sure your belongings are unloaded.
Arrange to have your appliances installed if you brought them with you.
Request a free moving quote from Atlas Canada's long-distance movers in Etobicoke, Ontario, today!