Book the moving services that best fits your needs!
Rendre le déménagement aussi simple que 1, 2, 3…
La première étape consiste à choisir Atlas Canada.
À partir de là, tout devient plus facile.
Atlas Canada and our family of movers earn your trust, keep promises, and exceed expectations every day. This commitment is central to our reputation as one of North America's leading household goods movers and transportation companies.
Our investments in people, equipment, and systems reflect our commitment to being the first and best choice for moving services.
Atlas Van Lines Canada can help you with local moving, long-distance moving, Canada to USA moving, USA to Canada moving, container moving, overseas moving, corporate moving, storage, and specialized transportation through our Logistics Division.
Cliquez sur les cases ci-dessous pour en savoir plus!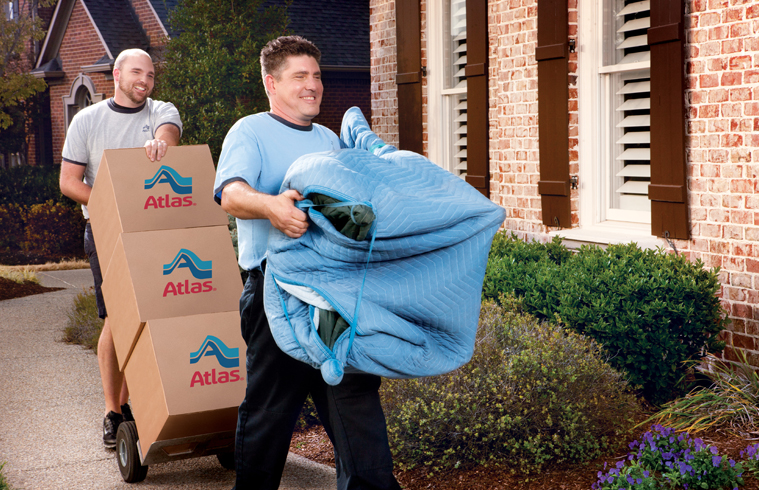 Déménagement interurbain
If you are making a household move, then congrats. It's not easy to uproot yourself, especially if you have spent many years in your current location. On the other hand, perhaps your move was long-awaited, and you can't wait to move over to your new home! Atlas Canada's Moving Services has helped Canadians in every province for over 55 years of service. You can trust your possessions in the hands of one of Canada's most established and reliable van lines.
The contents of your home are precious, and moving them potentially hundreds or thousands of kilometers would make anyone pretty anxious. Rest assured: your household move is as easy as 1, 2, 3 with Atlas Canada.
Déménagement transfrontalier
If you are moving from Canada to the United States, vice versa, or another country, we congratulate you on your next big step! Moving is always a combination of emotions: you might be leaving behind a place where you made many memories while simultaneously being thrilled about what awaits you across the border. Moving can also be rather stressful, especially when you take into consideration the whole act of crossing the border.
Atlas Canada is a cross-border moving service with a proven track record and a name that you can trust, having been serving both Canadians and Americans with our high-quality services for over five decades.
Déménagement à létranger
Whether you're moving an entire household or just a few items internationally, you're likely already nervous about your long distance move and the possibility of something going wrong when shipping your items either by ocean freight or by air. It's a scary prospect! Atlas Canada offers many options for a stress free delivery overseas, from door to door full destination services including unloading, unwrapping, unpacking, and removal of debris, door only (i.e., delivery to your residence with no destination services), and port only, where you would need to make your own delivery arrangements from the port of arrival to your new residence overseas.
Réinstallation d'employés
Atlas Canada's corporate relocation services, or Avail Move Management, utilize Atlas's network of well over 500 North American movers to perform Atlas-approved moves worldwide for corporate relocations. If you've had the idea of setting up a new office at a new location for some time, then we're happy to help you relocate your corporate headquarters in a streamlined and budget-friendly fashion. Finding a relocation partner is not so different from hiring the right people for your company, so you want to do it right. 
Logistique
Connect Logistics, Atlas's Logistics branch handles all of your transportation requirements throughout North America. It is critical that our industrial and commercial customers have their products both picked up and delivered on time, and as such, we offer three services to meet your needs better: third-party logistics, final mile services, and managed transportation services. We have over 600 agent warehouse facilities across Canada and the United States to receive, store, or prep any product you have for shipping and minimize downtime.
Moving Containers & Storage
If you have a new property that isn't quite ready to be occupied, then all of your moving household goods can be stored in an Atlas mover warehouse until you are ready to receive them. Atlas' Affinity Vault moving containers are secure, convenient, can be shipped ahead of you, and are fantastic for short-term storage if you need to wait a little before storing your household goods in a more convenient location. Just let our moving coordinators know and they will handle the rest.
Moving Services: FAQs
There are numerous ways to move, but hiring a professional mover is one of the best decisions you can make when moving from Point A to Point B, especially if Point B is across the border or overseas. Movers have the experience and equipment you require to get your belongings to your destination as safely and as efficiently as possible.
Professional movers tackle all the logistics for you when you move, with guarantees you peace of mind. Nothing gets left behind when they have all the proper equipment and experience to transport your belongings safely. Movers are also insured, so your belongings will still have protection if something happens.
Plus, nothing beats the convenience of a moving company providing door-to-door, hassle-free service. You don't have to worry about moving around heavy items or renting a truck.
Depending on the service that you choose, since Atlas offers multiple to meet your budget needs, you can expect service that's either door-to-door or heavy assistance with your own DIY move. Full-service movies can do everything from supplying all packing materials and supplies, like bubble wrap, packing tape, paper, etc., packing up your belongings – including ensuring that fragile and valuable items are expertly and securely packed away, disassembly of furniture, loading, and unloading of trucks, transport of belongings, unpacking, and the disposal of packing materials. This is the great advantage of using a moving company: having the convenience of enlisting a company to do all the above tasks for you. 
The fuller the service you hire the company for, the more it will cost. At the same time, packing and moving yourself can take days or even weeks to accomplish fully. Hiring movers will ensure a more accurate set timetable. 
While a full moving service should handle most of the tasks you would otherwise be saddled with during a DIY move, you can do a few things to prepare for professional movers.
After all, the better prepared you are, the smoother and faster the move will go. Compile a detailed moving inventory and take close-up photos of the items you have for moving to assess for any potential damages or losses during transit. Ensure all belongings that are not to be loaded on the moving truck are set aside. Reserve a parking space for the moving truck, plus an elevator (if applicable) for the time of your move.
Finally, clear the way of obstacles (including any nuisance pets!) and take measures to protect your property from potential damages. Make sure you have organized the items you want to relocate to your new home properly and put aside those that you won't move to a separate spot. Determine what you'll do with the non-moving items, whether that's giving them away, selling them, disposing of them, or taking them on the plane/ferry with you.
Most moving companies will have limitations when it comes to moving anything flammable or potentially explosive. The same applies to any hazardous materials, like paints, aerosols, pesticides, motor oil, batteries, fertilizer, and acids. Household cleaning products may also need to stay behind. Also, many moving companies will not pack any perishables, such as any form of food or drink, whether fresh, dry, or frozen.
It depends on the design of your dresser. If your dresser is a ready-to-assemble design, then it's likelier to give way during a move, so you should consider packing them separately. If your drawers are of a sturdier design and you are tight on space or short on moving boxes, then you can leave your clothes in the drawers. Ask your mover what they would prefer.