Households and Residential Moving
Rendre le déménagement aussi simple que 1, 2, 3…
Faire une longue distance
Bougez avec Atlas Canada
Faites-vous un déménagement longue distance? Congratulations on your new adventure! Atlas Van Lines has been proudly moving Canadians all over the country for over 55 years with a network of more than 100 movers in every province and territory. Whether moving within your home province or cross-country, trust your possessions to one of Canada's most established and reliable van lines and residential movers.
At Atlas Van Lines (Canada) Ltd., we understand that the contents of your home — which likely include some of your most prized possessions — are extremely important to you. Moving them hundreds or thousands of miles can make you feel anxious.
But we want you to know that the professional movers at Atlas Van Lines have many years of experience. When you trust one of our residential movers in Canada to move the things that matter to you, we treat those items with care and are fully licensed and insured.
Lorsque la plupart des gens s'imaginent faire leurs valises et déménager dans une nouvelle maison, ils s'imaginent souvent faire un déménagement sur de longues distances à travers le pays. Mais selon les détails, déménager dans une autre partie de votre ville peut être tout aussi stressant et chronophage que déménager dans une autre province. 
Are you moving to a new house and exploring your relocation options? Request your FREE Atlas Van Lines residential moving services estimate today. We'll immediately put you in touch with a moving expert in your area!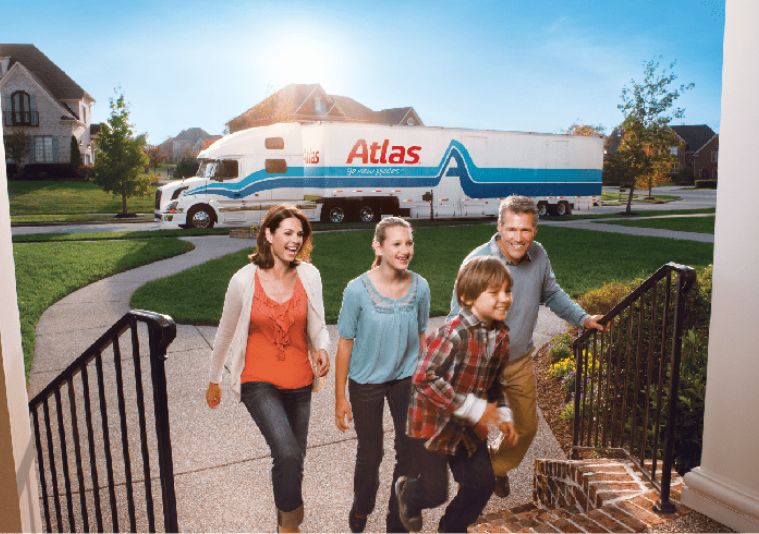 Before moving day, you will meet with one of our Professional Moving Consultants to discuss any concerns about your long-distance move. The consultant will do an item-by-item survey of everything that needs to be moved. She/he will prepare a pricing estimate for you and help you establish packing, pickup, and delivery timelines. Everything about your long-distance move is monitored, so it all happens without a hitch.
Once all your items are on the truck, the truck will be weighed. The pre-load weight is deducted from the post-load weight to determine the actual shipment weight, which is used to determine your shipment charges.
Votre conseiller en déménagement professionnel Atlas Van Lines vous garantira que son poids estimé ne dépassera pas 10% de ce qu'il a estimé tant qu'aucun article n'est ajouté à votre envoi après que le consultant ait effectué l'enquête à domicile.
Opérateurs de fourgons professionnels expérimentés
On your moving day, the Professional Van Operator is at the wheel. He/She and the crew know how to handle all your possessions safely and load them correctly. Runners will protect floors during loading and unloading. Moving pads will be used on your furniture to prevent damage. Any white or light-colored upholstery you have is wrapped in clear plastic, followed by quilted moving pads.
Attention et soins dans votre nouvelle maison
When we arrive at your home, our crew will put your furniture where you want it. They will also carry packed items to the kitchen, bedrooms, basement, and garage. They will reassemble the beds, unroll carpets, and place them where you want them.
Déballage diligent
All boxes packed by Atlas Van Lines personnel will be unpacked by them. Contents will be put on safe and convenient surfaces to place where you would like. They will take unpacking materials and debris with them when they leave.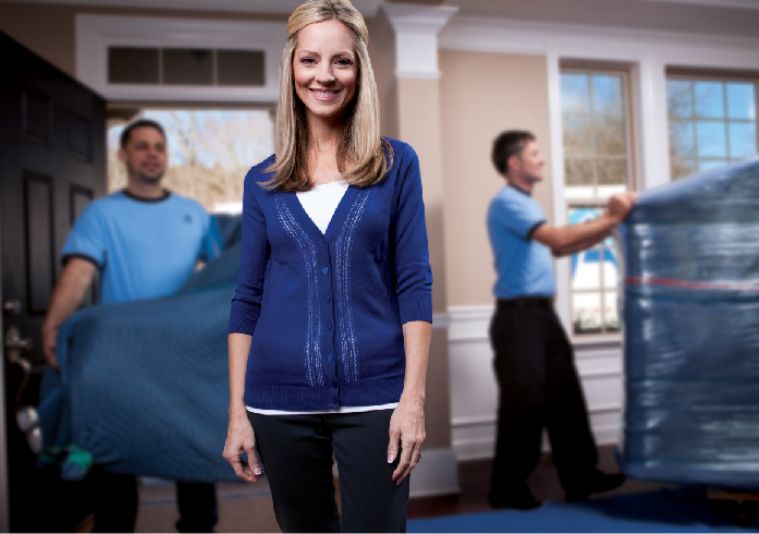 Pourquoi choisir Atlas Van Lines
We offer home moving services guarantee under our Quality in Motion program. This program is unique among moving companies, and you can learn more about it here.
As part of our service guarantee, Atlas Canada Professional Moving Consultants will clearly explain every part of the moving process to you including:
Comment les coûts estimés ont été calculés

Comment votre envoi sera pris en charge et déplacé vers votre nouvel emplacement;

Comment le calendrier des services est déterminé

Quand vous pouvez vous attendre à entendre le chauffeur de la camionnette

Comment vos biens seront catalogués

Une explication des plans de protection du transit

Une explication des services de déballage

Une explication des options de paiement qui s'offrent à vous
In addition, the Professional Moving Consultant and Professional Van Operator are required to complete an Essential Services Form for every move, ensuring everything that should take place does take place. These include:
A confirmation letter was sent to the customer

A Quality Assurance Certificate issued and received by the customer

Use of a set-up carton on the move

Des étiquettes d'emballage correctement remplies

All upholstered furniture was plastic-wrapped

Floor runners and banister protection were used

Proper setup and reassembly of all items that the mover disassembled

Service de déballage effectué à la satisfaction du client (si le service d'emballage a été acheté)

Les clients ont été contactés au moins 24 à 48 heures avant la livraison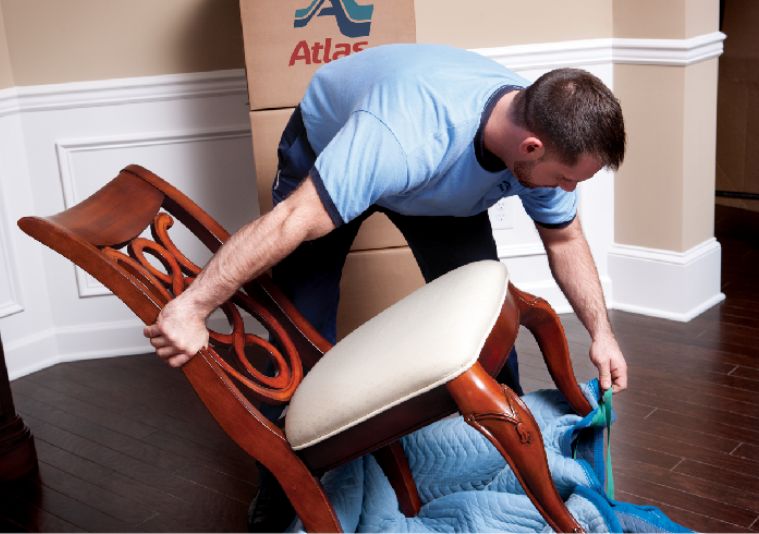 Charges for local moves are normally based on an hourly rate. The hourly rate will depend on the size of the truck required, the number of crew needed to service your move, and the time of year you are moving.
Be sure to let your Atlas mover know if you are moving appliances and bulky items such as a piano, hot tub, etc. If you live in an apartment or condo, be sure to book the elevator as far in advance as possible as other people may be moving in and moving out that day.
Each piece of furniture will be wrapped in clean quilted moving blankets, and your home will be protected with floor runners and padding on banisters and railings.
Professional packing service is also available on local moves. If you are doing some or all of the packing yourself, your Atlas mover agent can provide you with packing supplies specially designed for moving at an additional cost.
Gently used moving boxes are also available at a reduced cost.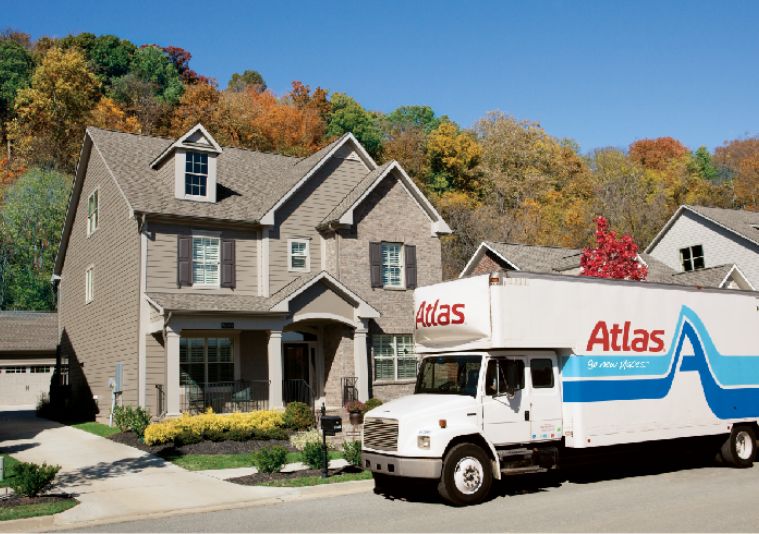 Combien de temps faut-il pour déménager localement?
Le nombre exact d'heures qu'il faut pour effectuer un déménagement local peut être difficile à prévoir. D'après notre expérience, trois facteurs principaux peuvent influencer le nombre d'heures nécessaires pour effectuer un déménagement de courte distance :
1. La taille de votre ménage
Moving your household may take a bit more time if you're transporting a lot of items. To put it another way, it's often much faster and easier to pack up a one or two-bedroom apartment than it is to do the same for a three or four-bedroom home. Although your Atlas Van Lines moving coordinator will be able to give you a more precise local moving estimate, you may want to budget around one or two hours per room.
2. The Items You're Moving
If you've got a collection of full-sized antique pianos in your basement, it doesn't matter if your house is otherwise on the smaller end – it's still going to take a substantial amount of time to get you packed up and loaded. From heavy-duty china cabinets to freezers, furniture, and filing cabinets, most households will have a few heavier items that need to be handled with extra care. If you have a lot of belongings that fall into this category, you may need to give yourself a time buffer.
3. Vos dates de possession
Sometimes, delays don't result from anything you or your residential movers could have done differently. For example, many people who are relocating to a house from an apartment will have gaps between their move-out dates and their possession dates. If this is you, the work of packing, pickup, and coordinating an extended delivery schedule might add a bit of extra time to your relocation timeline. 
In most cases, however, it should be possible for local moving services to be completed within a single working day. Request your FREE stress free moving service estimate to learn more.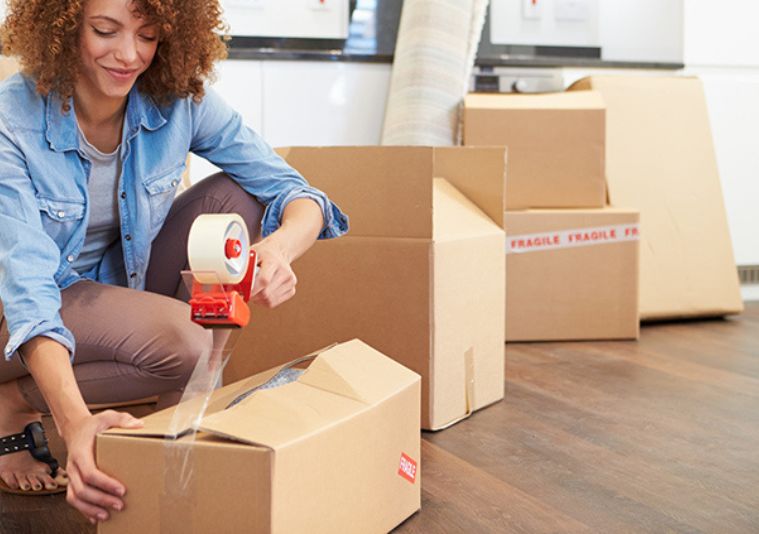 Demandez un devis aujourd'hui
We don't take chances with your precious cargo, and neither should you. We are one of Canada's most reputable residential moving companies and have been recommended by the Better Business Bureau. We are also a member in good standing of the Canadian Association of Movers.
Whether you're planning a long-distance relocation or a local move with your family our teams of professional residential movers has the experience and skill needed to get your items packed up, loaded, and relocated quickly. Plus, we'll even help you assemble any beds, tables, or furniture that you may have making the move into your new space hassle free.
Contact Canada's best residential movers to learn more about how we can make your household relocation as easy as 1-2-3.
Contactez-nous pour en savoir plus sur la façon dont nous pouvons rendre le déménagement de votre foyer aussi simple que 1-2-3.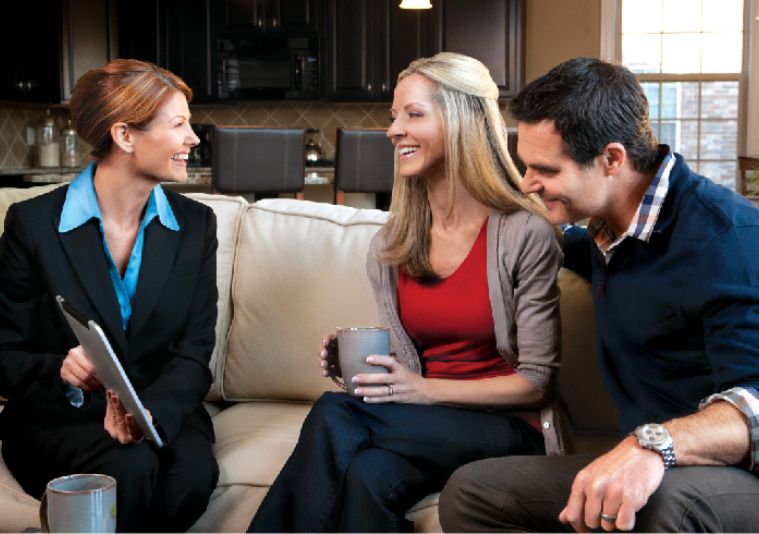 Residential Moving FAQs
Finding a professional residential moving company, like Atlas, is less about simply finding moving services at the cheapest rate to move through belongings. It's more about entrusting a group of hard-working individuals with the assets you have that hold so many memories and value. We advise looking for reputation and reviews (of which Atlas has scores!), licensing and insurance (we are both licensed and insured!), experience (we have over 50 years!), and the right equipment and vehicles (you'll have your pick of the litter.)  It's a decision that requires thorough research and consideration – not a one-and-done decision.
Your total moving cost may depend on a few factors, like the volume and weight of the items being transported, the distance of the move (local distances will usually be priced differently than long-distance relocation), specialized items, time of year, access issues, and packing services – where applicable. 
While the best time to move is dependent on the climate where you live, in much of North America, the best time to move is the shoulder season, like late spring or early fall. Summer is a high time for moving because the weather is favorable, and many students have a break, but there's limited availability for movers. 
If you live downtown or in a busy area, you may need to acquire a parking permit for the moving truck. Check with your local municipality's parking authority in advance of your scheduled move to secure the necessary permissions and avoid any potential fines. Some residential communities and condo associations have specific moving guidelines, such as designated hours or elevator bookings. Be conscious of these to prevent last-minute surprises. Finally, consider the weather if you live in an area with an unpredictable climate and stay updated on road conditions.