DIY projects are a great way to personalize your home, expand your skills, and fill your down time with rewarding work.
As the world has been spending more time at home these days, we thought it was a great time to run a social media contest asking the public to show us their fun DIY home projects for the chance to win!
We received all types of entries from small art projects to big home renos and were amazed by the effort put into each piece of work. There was no project too big or too small because we know creativity comes in all shapes and sizes! With the help of our social media followers, we narrowed down our top 4 favourite projects we hope inspire you below.
Project 1: Recycled Bottle Cap Magnets and Buttons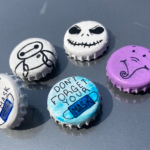 – Made by Jenna L.
Get creative with what you already have and use old materials around the house. Save old bottle caps and turn them into magnets or buttons with your favourite sayings, logos or characters on them.
These cool DIY magnets and buttons are completely upcycled using recycled bottle caps, old magnets and earrings. They are environmentally friendly crafts that will bring a personal touch to your home and are also great as gifts.
Quick Tips for this DIY
Test out different paints, markers, and any other decorating material on your bottle caps to see what works best
Try to use bottle caps with a less colourful design on them for easier painting
Project 2: Upgrading Your Fireplace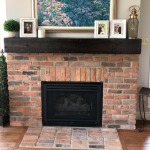 – Made by Paul C.
If you have an outdated fireplace or are just looking for a new design, there are lots of DIY ways you can create a brand-new look. Paul's DIY fireplace upgrade was a big project that began with ripping out the original material and covering it with reclaimed brick. A new mantle was built out of rough pine to give it a more antique feel and it turned out beautiful!
It is important to remember that all upgrades can always be customized to your style and budget. A simple coat of paint on your fireplace can do wonders in bringing the room together with a more current look and feel.
Quick Tips for this DIY
Make sure the fireplace is completely cooled or has no risk of turning on during your project
Make a plan for your design, including budget, colour scheme, materials and overall esthetic
Project 3: Homemade Stylish Signs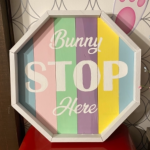 – Made by Tara H.
Get festive for the holidays and make some homemade decorations with the kids! Whether you buy craft kits and spruce it up yourself or make something from scratch there is lots of fun to be had with these DIY projects.
Crafting can become a great hobby and is always something fun to do with the whole family. Instead of hunting around the stores for the perfect holiday decoration why not create it at home!
Quick Tips for this DIY
Make sure you measure but don't stress if the cuts aren't 100% accurate
If you're newer to painting or designing, practice on a sheet of paper first
Project 4: Reviving Your Old Deck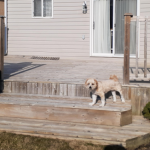 Made by Victor C.
Not all DIY projects need to be started from scratch. Sometimes it's all about reviving an old piece, like this deck, and making it feel brand new again.
There are many different stages of DIY that go along with your level of experience. Some of the easiest ways to revive an old deck is giving it a good clean. This includes scraping off any loose wood chips, applying a wood cleaner, giving it a wash, and then putting a fresh coat of stain on top. These types of projects will protect your deck in the long run, create a cleaner look, and save you money.
Quick Tips for this DIY
Research the best types of wood cleaners and finishes for your specific deck
Rent tools such as power washers from your local hardware store